41 starts – 19 wins – 7 seconds – 1 third
Gosford : 29.75 Record
Lithgow : 29.47 Record
Lithgow : 29.34 Record
The Meadows :  29.92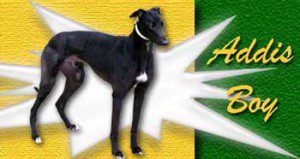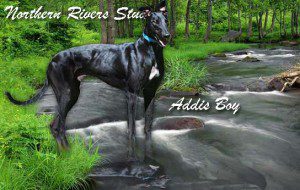 Triple track record holder

Group 1 Australian Cup finalist

Group 3 Gosford Gold Cup winner

3rd Group 3 Christams Gift

3rd Group 3 Bulli Cyril Rowe Memorial

Group 2 Richmond Derby finalist
Addis Boy Pedigree
Token Prince
Malawi's Prince
Malwai
Waverley Supreme
Sabby's Image
Duchess Marina
BowetzelL
Nannajak
True Temptation
Amerigo Man
Brother Fox
Promises Free
Bay Supreme
Waverley Supreme
Bay Road Queen
Fantasy Fortune
Little Denver
Worth Doing
Brother Fox
Versatile Miss
National Lass
Chief Dingaan
Waroo Lass
Flash Parade
Nation Parade
Temlee
Tara Silk
Flash Vixen
Brother Fox
Shy Julie
The 2004 Gosford Gold Cup was taken out by the Doreen Drynan-trained Addis Boy, picking up a cheque for $15,000…..
This Sunday's Auction features some fantastic items with something that would be appealing for any trainer, breeder or owner. The items up for grabs are as follows: Services to: Smooth Fancy, Vee Man Vane, Addis Boy, …..
2012 South Australian Coursing Season Gets Underway
RACE 5 : KENNARD'S HIRE MAIDEN STAKE Cosimo Lopresto's RENDITION (WBK D, Oct '09; Coulta Bomber/Bar Flyer) defeated Martin Doyle's PRINCE LEE BOY (BK D, Dec '07; Addis Boy/Doylee's) by 4 lengths in 15.48. Winner trained by Cosimo Lopresto…..
Brazendale Kennel Enjoying Tasmanian Greyhound Racing Success
Jaylei Henry opened his winning account by defeating Winklee Weeper and Powder Monkey in the Right Price Meats Grade 5 event at odds of $15.90. Raced by the previously mentioned Johnson and his wife Robyn, the son of Addis Boy has disappointed in the past and was having his 23rd start in a race, but may very well have now turned the corner…..
Ford & Braddon Kennels Train Dubbo Doubles
The Dubbo based Ford camp kicked off their night when youngster Out Breaks Bingo ($1.50) led all the way in the Free Choice West Dubbo Mixed Grade Stakes (516m). Backing up from his handy first up second last Saturday, Out Breaks Bingo registered a 30.68s win to indicate a bright future ahead for the Addis Boy x Forget Bingo sprinter…..